ALL DAY PYRAMID ACTIVATION CEREMONY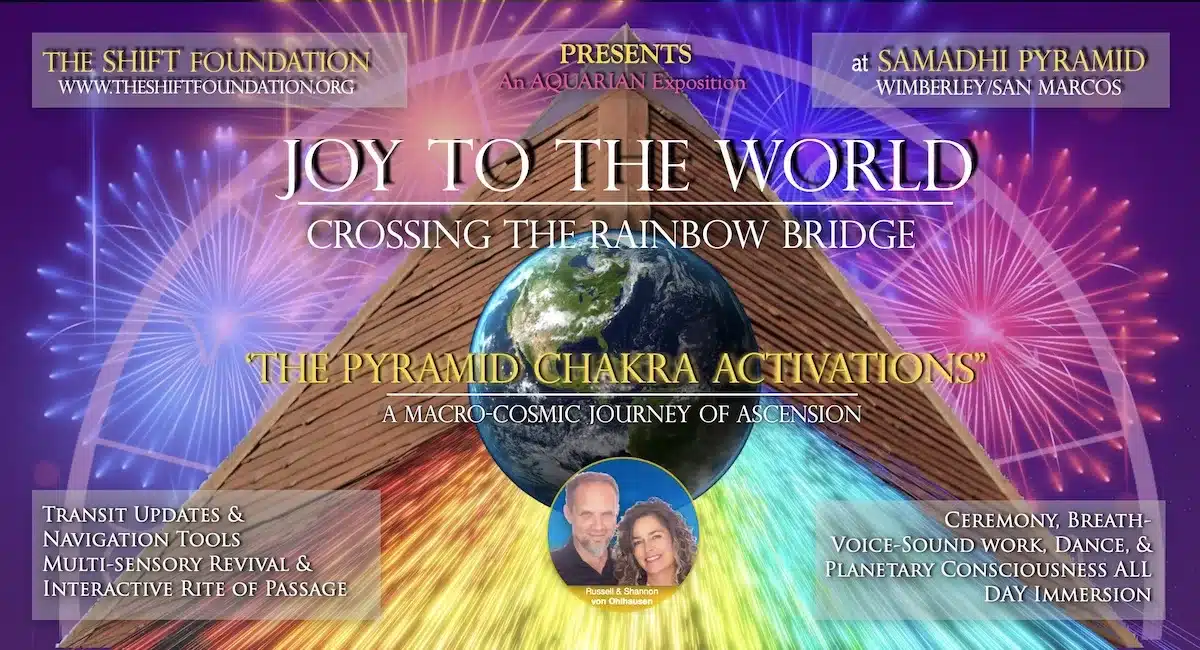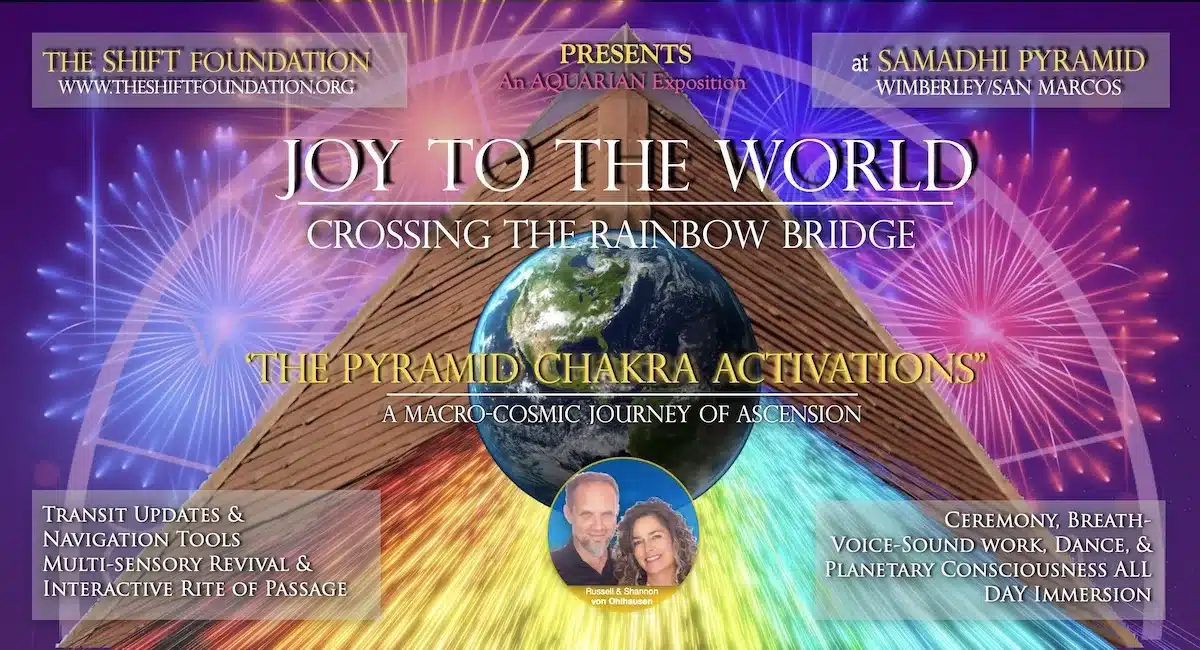 CROSSING THE RAINBOW BRIDGE!!
Get your seat now for the Joy To The World activation ceremony. Only 49 spaces available maximum!
JOY TO THE WORLD – Activation & ALL DAY Intensive
DETAILS
DATE: Saturday. SEPTEMBER 2nd, 2023
TIME: 9:30AM to 9:30PM (Social Gathering Begins at 9AM)
LOCATION: Samadhi Yoga Retreat — Wimberley/San Marcos (*see map below)
Then this is the INTENSIVE IMMERSION FOR YOU! Activation, Yoga, Alchemy, Ecstatic Dance! Come share the experience! And leave your personal imprint in this temple space! Commune with others thru new knowledge and the shared energetic field others on the in a spiritual container this common nexus point in time and space where we find ourselves once again together, as we travel along our own "pathless paths".
The SHIFT Foundation is delighted to announce that we will be hosting the "JOY to the WORLD" full-day Seven Chakra explorative immersions at seasonal points throughout 2023. Our premise is that we are 'THE TECHNOLOGY OF HAPPINESS' and that through cosmic attunement with the alchemy of astrology, music, mystery teachings, dance, & ceremony we will help create this healing acupunctural energy point in, which we all may release unneeded parts of our pasts to move more freely into our future.
The space and the facilitation provide an extra-ordinary portal of activation that you may leap masterfully into co-creating this new emerging paradigm! Commune in the sacred pyramid with your tribe to accelerate your DREAM SEEDS germinating into being! ✨
If you did it once, and you want to do it again, let us know; maybe we will have a ceremonial part available just for you, if you desired! We have arrived! Quantum Reality & the New Age Paradigm
A FEW OF THE ELEMENTS for the day:
FOR CONSIDERATION:
OVERNIGHT ACCOMODATIONS: You may consider booking a bed, room, or glamp at the venue. Book separately through SAMADHI (See below!) You may also wish to make sleeping arrangements locally with others through the discussion forums on social media
CARPOOL: Feel free to make arrangements to carpool to Samadhi on the event social media discussions.
**Note for Previous Attendees:
** For those who have attended the activation workshop previously, this is a periodically repeating event. We will follow the same template and itenary with some new additional components, updates on current events & astrological forecast for the remainder of the year into 2024. Please be advised the format and protocols are the same.

SEATING IS LIMITED
Please plan ahead. Seating is limited to 49 positions.
ASSISTANT Rate
$153
We have 2 spots available at a discounted rate for meal assistance. Contact if interested.
EARLYBIRD: BEFORE Aug 19th
$207
Early Bird Rate! Book your seat to the next activation before August 18th at midnight!
EARLY: TEMPLE KEEPER SEAT
$234
Limited to 8 seats with a ceremonial role & speaking parts. Special invited invites & first to request a seat!
FULL: AFTER AUGUST 18th
$243
This is the full rate after August 18th. Let's book up before the 18th… but come join us regardless!
See all plans and pricing
Building the True Rainbow Bridge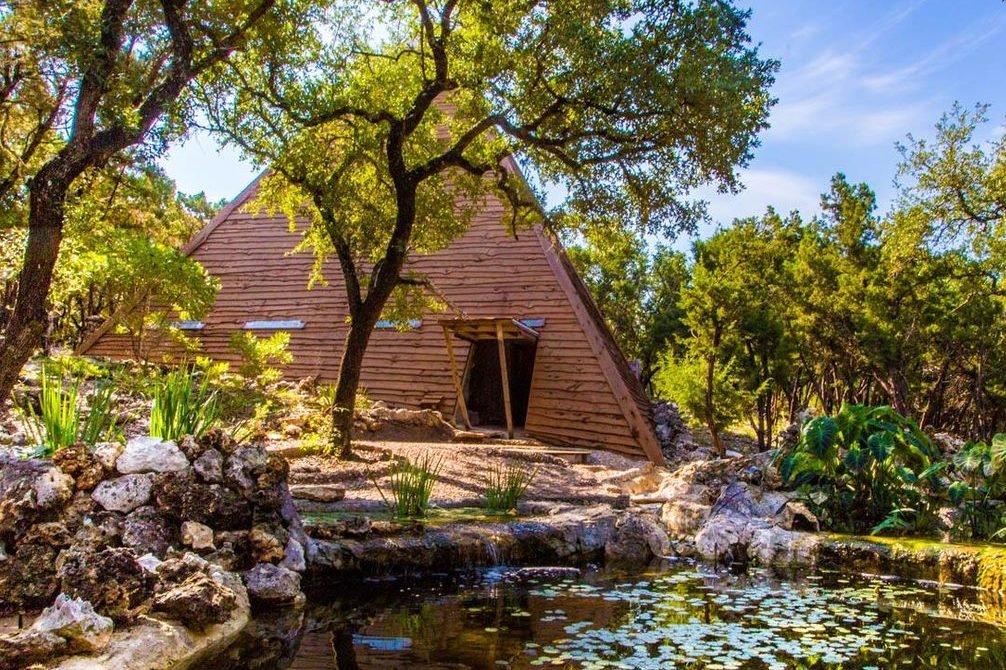 THE VENUE: SAMADHI YOGA RETREAT :
Please plan your DRIVE TIME to arrive at Samadhi by 9:30AM (social time begins at 9AM, Pyramid Procession begins at 10AM. It is approximately 1 HOUR from central Austin & 1 Hour to central San Antonio, 12-15 mins from Wimberley Square, 25 mins from San Marcos, 35 mins from Kyle.
**If you are coming in from out of town and would like to make arranges to stay at the retreat center the night before or the evening of, accommodations at available at Samadhi.
COME REMEMBER JOY!
Find us
Community
Parallel Reality Network
U.S.-TEXAS-AUSTIN
Wimberley, Texas U.S.
Are you into Pyramids & Raising Consciousness??
Then you are in the right place at the right time!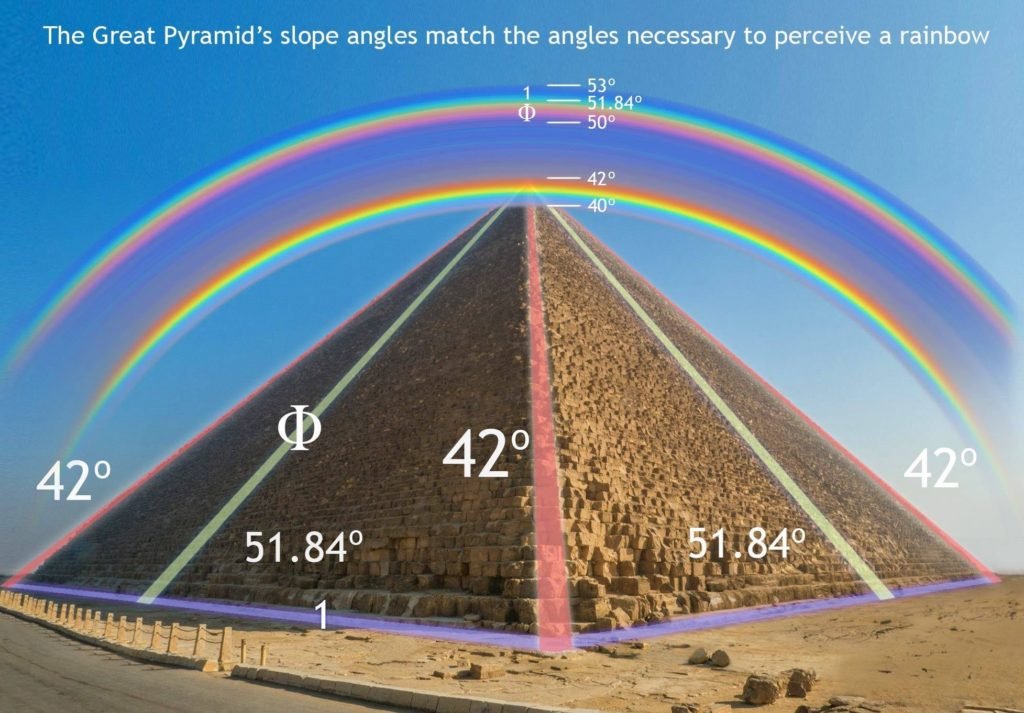 JOIN THE PYRAMIDAL POWER GROUP
We take the power of the pyramid quite seriously. Even if you are not able to attend an activation and still want to stay connected & share ideas around working with Earth grid energy and the power of sacred geometry, sign-up on MeWe.com and friend The Shift Foundation there.
100% FREE! to use, comment, connect, invite!
Get your profile & Start a Page
Register for your FREE profile on MeWe.com. This is a grassroots effort. If you wish to support the platform, and you have a product, business or service, you may apply for a business page which you fully moderate.
Make sure to add your personal profile and or group or service page to MeWe and connect to TheSHIFT main profile and then join a group. ALSO, get on our updates list for the newsletter!