Rhythm Sanctuary | Ecstatic Dances
The 'FREEDOM CHURCH' & The 'GROOVE TABERNACLE' – Wimberley, TEXAS
THE RHYTHM SANCTUARY
RS | DANCE PROGRAMS
RS | "Illumination" ED3 – Ecstatic Dance 'cubed', variations of ED for conferences and workshops.
RS | "Freedom Church" – The container for the vision of the longer term 'traditional' ecstatic dance.
RS| "Groove Tabernacle" – Mobile "pop-up" dance, deployed to various locals.
RS | Illumination Dances
Our extended dance community has been called 'Rhythm Sanctuary' since 2007; it has branched in several directions and taken a variety of forms. The independent 'Texas branch' hosts "Illumination" ecstatic dances as way to introduce new people to dance at conferences, as a part of workshops, and other events. The Illumination dances are part of our ongoing work.
So what is ecstatic dance?
If you don't know anything about ED take a minute!
Come dance the Cycle of Life… 'THE WAVE'. We start with a warm-up of 30-40mins and a then a circle up. Generally, a wave is around 75-90 mins, consisting of a seasonal cycle of birth, growth, life and cessation. The challenge is to dance entire Wave, irregardless of how you may feel about the music, the themes, the people around you, or moments of own your inner apprehensions. The work is to transcend those parts of life in order to feel embodied without & the spirit within. There is NO TALKING on the Dance Floor, NO SHOES, we are bare- or sock- footed. There are NO OBLIGATIONS to dance with anyone -and- you may dance with everyone who wishes!
Is this the 'NEXT YOGA'?
As a modern form of contemplative practice that has been around in many iterations for over 50 years and has become a global phenomena for the last 25 some people are saying this is the 'next yoga'.
You will not regret it! C0me move your body!
A Little History of Rhythm Sanctuary
In 2002, our co-founder, Shannon Gill (Jones) received her degree in Dance, Movement Music & Art Therapy from Naropa University (& the Chögyam Trungpa Institute). The seeds for the original dance were planted with Shannon, after being inspired by "The Matrix: Reloaded" tribal dance scene. She began hosting regular dances in her home in the mountains in Boulder, Colorado, not knowing that a global 'movement' was, simultaneously taking place. In 2006, a team was gathered and Gypsie Nation, LLC was created for the container, which merged with the early 'ecstatic dance movement', becoming the first in Colorado. They quickly outgrew her home and rented the Avalon Ballroom, a 5,000 sqft location, which they prepared and facilitated every week.
Word spread to dancers in Denver and the weekly program of dancing to 'honor the sacred masculine & feminine' along with the post-dance ritual of seated commune and shared food was co-created in this was formatted. The name was changed to Rhythm Sanctuary, LLC, and a team was cross-trained for the seeding of the Denver ecstatic dance. Rhythm Sanctuary Denver, which still runs 200-300 dancers strong today (see more of the history of Rhythm Sanctuary).
In 2015, Shannon moved back to her hometown of Austin, Texas to be closer to family, bringing the seed energy of Rhythm Sanctuary (RS) dance with her. As well as co-founding The SHIFT and her private counseling practice, she facilitates many styles of sacred dance through The Shift Foundation | RS-Illumination Dances.
We are currently calling in the "seeds" for the next incarnation of Rhythm Sanctuary with the RS | "Freedom Church" & RS | Groove Tabernacle (mobile dance), in & and around Wimberley, Texas. If you are in the TSF | Hill Country Texas group and want to help plant the seeds for the next regular dance, feel free to get in touch at contact@theshiftfoundation.org.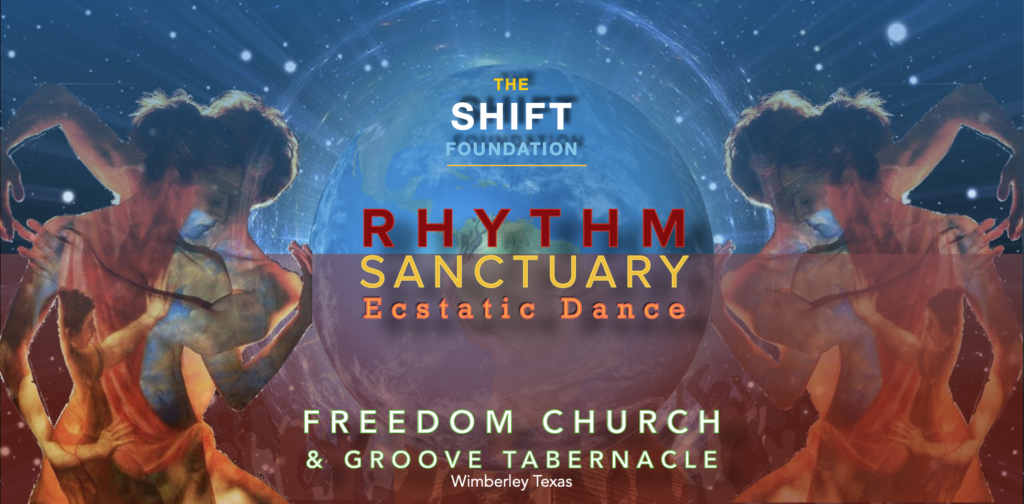 It is time to process our inner selves and find balance through movement! This is what it's all about! Come find out for yourself...!